About
Important Plant Area (IPA) Programme
Aims
Across the globe plant species and the important habitats that sustain them are disappearing at an accelerating pace. The IPA Programme is a means of identifying the best sites for wild plants (higher and lower), fungi and their habitats using 3 consistent criteria, threatened species, botanical richness and threatened habitats. The criteria are described in detail in the "Criteria" tab above.
Important Plant Areas (IPAs) are globally significant sites for wild plants and threatened habitats. Identified at a national level, they provide a framework for implementing target 5 of the CBD Global Strategy for Plant Conservation (ensuring the protection of at least 50% of important areas for plants) and are a vital tool in conserving wild plants and their habitats in situ. IPA identification is intended to inform and underpin existing international, regional and national conservation programmes and legislation.
Ultimately the aim is that IPAs will act as a benchmark for determining whether the strongest protection, under any existing legislation, is being afforded to the most important sites for plants.
IPAs contribute to the following Global and European agreements and initiatives:
UN Sustainable Development Goals
Convention on Biological Diversity (CBD)
CBD Global Strategy for Plant Conservation
Pan European 'Environment for Europe' Process (PEBLDS, PEEN, High Nature Value Farmland, the Aarhus Convention)
RAMSAR Convention
European Strategy for Plant Conservation
EU Habitats & Species Directive, Natura 2000 network
EU Water Framework Directive
Bern Convention & Emerald Network
History of the Project
The Important Plant Areas Programme was inspired by the Important Bird Areas Programme, which has been a great success for identifying the world's best bird sites, and for uniting networks of scientists, policy experts and local communities to protect these sites.
Botanists have been debating and developing the IPA Project since 1992, and there have been several conferences, workshops and pilot projects to determine the best criteria for identifying sites. The first IPA Guidelines were published in 2001 (Palmer & Smart, 2001) and the first IPA Site Selection Manual for Europe was published in 2002 (Anderson, 2002).
Turkey was the first country to complete an inventory of national IPAs, in a collaborative project run by DHKD, Fauna and Flora International and the University of Istanbul (report published by WWF Turkey, 2003).
Global Programme and Partner organisations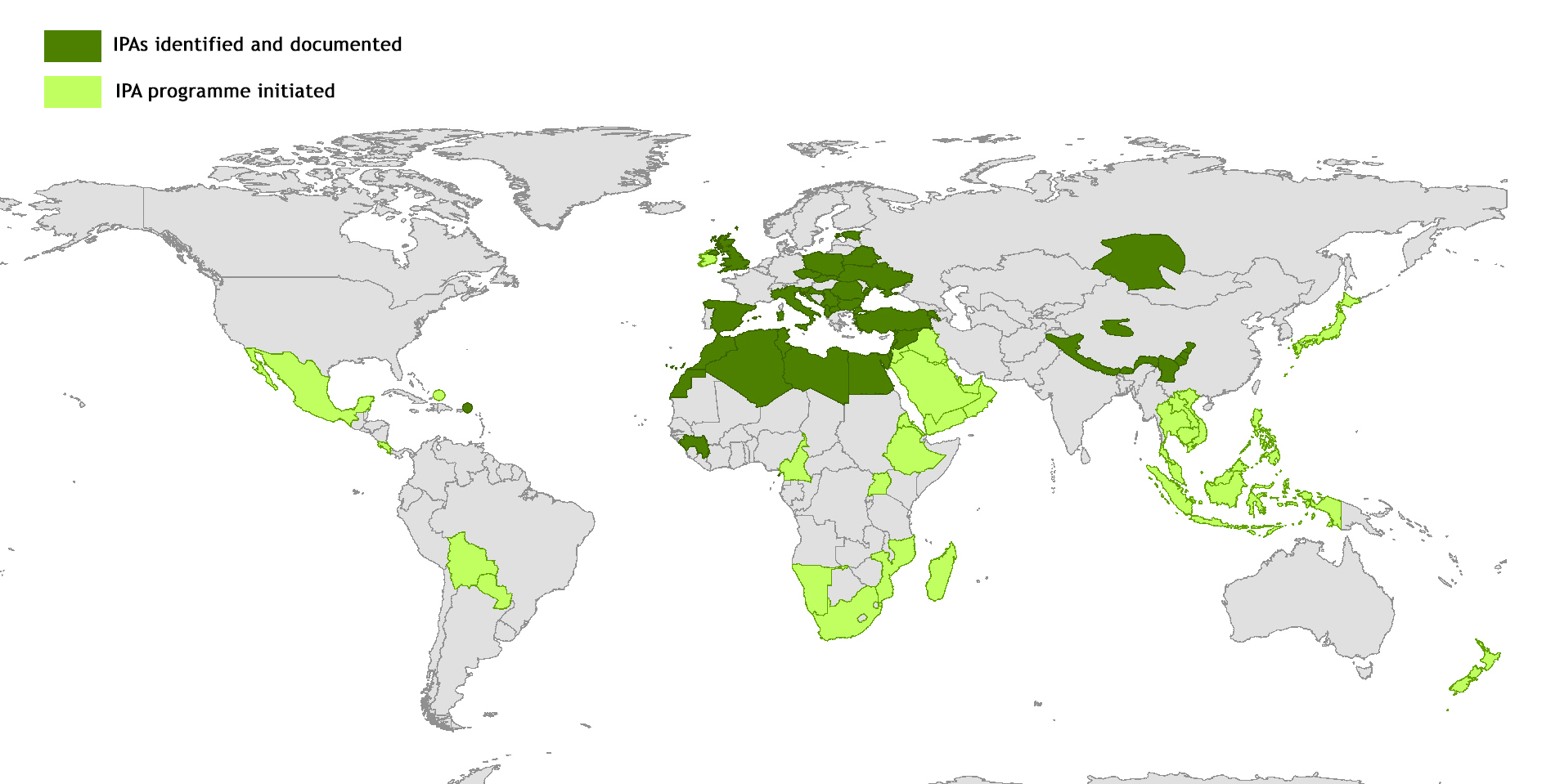 IPAs have now been identified across large sections of Europe, North Africa and the Middle East with 1994 IPAs in 27 countries identified and documented across this region to date.
In many cases, the resultant IPA networks have been integrated into national conservation planning and monitoring schemes For example, in Belarus all IPAs are now protected by law, and in Romania IPAs have led to the recognition and protection of new critical habitats, whilst in Croatia many IPAs were included in the expanded protected area network under the Natura 2000 scheme as part of their accession to the European Union in 2013.
In the UK, IPAs form the basis for Plantlife's UK conservation programme, specifically focussed on conserving rare and threatened plant species and habitats, while in the East and South Mediterranean Plantlife is working with the IUCN Centre for Mediterranean Cooperation, the IUCN/SSC/Mediterranean Plant Specialist Group and national partners to develop species monitoring plans and community action for IPA sites.
Beyond Europe and the Mediterranean region, a number of IPA initiatives have been launched or piloted, and to date 69 countries (please see the table below which summarises the countries and coordinating organisation involved in the IPA programme globally) have made at least an initial assessment of their IPAs including Namibia, Bhutan, China, India, Nepal and Pakistan, Saudi Arabia, The Falkland Island, several Caribbean Islands, Kazakhstan etc.
| | |
| --- | --- |
| Country | Coordinating Organisation |
| Albania | Regional Environmental Centre, Albania |
| Algeria | Nassima Yahi University of Sciences & Technology |
| Armenia | Institute of Botany: National Academy of Sciences RA |
| Bahrain | IUCN Arabian Plants Specialist Group |
| Belarus | IUCN-CIS Office Moscow and the Institute of Experimental Botany, Minsk |
| Bhutan | Ministry of Agriculture, Royal Government of Bhutan with Plantlife International |
| Brunei | University Brunei Darussalam Ministry of Industry & Primary Resources |
| Bulgaria | Institute of Botany, BAS, Sofia |
| Cambodia | Royal University of Phnom Penh with Missouri Botanical Garden |
| Cameroon | Workshop coordinated by Botanic Gardens Conservation International |
| China | SEPA State Environmental Protection Administration; Kunming Institute of Botany, Chinese Academy of Sciences; College of Biological Sciences & Biotechnology, Yang Zhou University |
| Costa Rica | Herbarium of the National Institute of Biodiversity Costa Rica |
| Croatia | Faculty of Science, University of Zagreb |
| Czech Republic | Agency for Nature Protection (AOPK CR), Prague |
| Egypt | Tanta University |
| Estonia | Institute for Environmental Protection, Tartu |
| Ethiopia & Eritrea | IUCN/SSC Global Trees Specialist Group & National Herbarium of Addis Ababa |
| Falklands Islands | Falklands Conservation |
| India | Praya; AERF Applied Environmental Research Foundation |
| Indonesia | Herbarium Bogoriense |
| Iraq | IUCN Arabian Plants Specialist Group |
| Ireland | National Biodiversity Data Centre |
| Israel | Hebrew University of Jerusalem |
| Italy | University of Rome, the Italian Society of Botany, & the Ministry of Environment, Land and Sea Protection (Nature Protection Directorate) |
| Japan | Ministry of Environment, Nature Conservation Bureau |
| Jordan | University of Jordan |
| Kuwait | IUCN Arabian Plants Specialist Group |
| Laos | National University of Laos with Missouri Botanical Garden |
| Lebanon | American University of Beirut & Lebanese University |
| Libya | Alfateh University |
| Macedonia FYR | University of Sv. Kiril & Metodij, Skopje |
| Madagascar | Missouri Botanical Garden; BGCI & Madagascar Plants Specialist Group with MBG and Conservation International |
| Malaysia | Forest Research Institute Malaysia (FIRM); Sabah Parks Board Malaysia |
| Mexico | CONABIO (National Commission for the Knowledge and Use of Biodiversity) CONANP (National Commission on Protected Areas) SEMARNAT (Secretariat for the Environment and Natural Resources) |
| Montenegro | University of Montenegro |
| Morocco | Forest Research Centre (Rabat) & Scientific Institute of Rabat |
| Mozambique | Universidade Eduardo Mondlane |
| Namibia | National Botanical Research Institute |
| Nepal | The Ethnobotanical Society of Nepal With Plantlife International |
| New Zealand | The New Zealand Plant Conservation Network |
| Oman | Oman Botanical Garden with the Centre for Middle Eastern Plants (RBGE) |
| Pakistan | WWF Pakistan Government Postgraduate Jahanzeb College with Plantlife International |
| Palestine | Al Quds University |
| Paraguay | Guyra Paraguay |
| Philippines | Philippines National Museum |
| Poland | Institute of Botany, Krakow |
| Qatar | IUCN Arabian Plants Specialist Group |
| Romania | Association of Botanical Gardens of Romania (AGBR) |
| Russia (Altai Sayan) | IUCN Programme Office for Russia and the Commonwealth of Independent States (CIS), Moscow |
| Saudi Arabia | Saudi Wildlife Commission with the Centre for Middle Eastern Plants (RBGE) |
| Serbia | University of Belgrade |
| Seychelles | Nature Protection Trust of Seychelles |
| Singapore | Singapore Botanic Garden |
| Slovakia | Daphne Institute of Applied Ecology, Bratislava |
| Slovenia | Botanical Society for Slovenia in collaboration with the Centre for Cartography of Fauna & Flora (CKFF) |
| South Africa | SABONET – Southern African Botanical Network |
| Spain | Generalitat Valenciana |
| Syria | The Syrian Society for the Conservation of Wildlife |
| Thailand | Bangkok Forest Herbarium with Missouri Botanical Garden |
| Tunisia | Institut National Agronomique de Tunisie |
| Turkey | DHKD, Fauna and Flora International and the University of Istanbul |
| Turks & Caicos Islands | MSc Thesis from Imperial College London & Royal Botanic Gardens Kew |
| Uganda | Nature Uganda (Plants Working Group) |
| United Kingdom | Plantlife International |
| Ukraine | Institute of Botany Kiev (Ukranian Academy of Sciences) |
| United Arab Emirates | IUCN Arabian Plants Specialist Group |
| Vietnam | Institute of Ecology and Biological Resources & Institute of Tropical Biology with MBG |
| Yemen | Agricultural Research and Extension Authority (Taiz) with the Centre for Middle Eastern Plants (RBGE) |